North Lakes
A mixture of preserved bushland and modern architecture, North Lakes is a great place to live. While North Lakes is a relatively new area, the suburbs surrounding it have existed for a long time. The creation of the suburb of North Lakes brought about new businesses and parks, many of which were aimed at young families. This makes the North Lakes region the perfect place to raise your family.
A highlight of North Lakes is Lake Eden. A body of water in the town centre surrounded by parks, playgrounds, boardwalks, and cafes. Lake Eden is also home to a large volume of wildlife and a thriving ecosystem.
The North Lakes Region includes North Lakes, as well as Mango Hill, Murrumba Downs and Griffin. The Bruce Highway runs along the edge of North Lakes, making it an easy commute to Brisbane and the Sunshine Coast.
Features

Westfield Shopping Centre
Home to some of the major brands in Australia, Westfield at North Lakes is seen as North Brisbane's ultimate shopping paradise. Containing over 60 shops, the shopping centre perfectly accommodates to each member of every family. Whether you are wanting to go to the cinemas, have fun at the arcade or simply enjoy a nice shopping day out, Westfield North Lakes is sure to have you covered.
To read more about what is available at Westfield North Lakes, click here.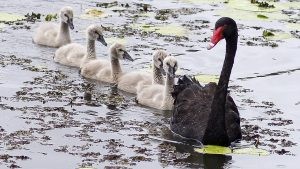 Lake Eden
Located in the centre of North Lakes, Lake Eden is one of the suburbs most well-known features. Being in close proximity to Westfield shopping precinct and many cafes/restaurants, it is the perfect spot to go for a walk with friends or have a picnic with the family. Equipped with a variety of facilities and activities, such as the play area, the 10,000 step walking track and the restaurant right on the water, Lake Eden accommodates to everyone. Around the lake you'll be sure to see all the different native wildlife, including birds, lizards, turtles and you may even spot a kangaroo or two!
To read more about on Lake Eden and what it offers, click here.

Schools in the Area
North Lakes is home to a variety of public and private schools, giving families the option to chose the perfect fit for them. Within North Lakes, and also Mango Hill, some of the schools include:
North Lakes State College
The Lakes College
Bounty Boulevard State School
Mango Hill State School
St. Benedict's College
Map of North Lakes